Editorial Note
Maj. Gen. Benedict Arnold recruited Joshua Hett Smith—who came from a family with significant Loyalist connections but had served as a spy for the Continental army—to assist with the consummation of his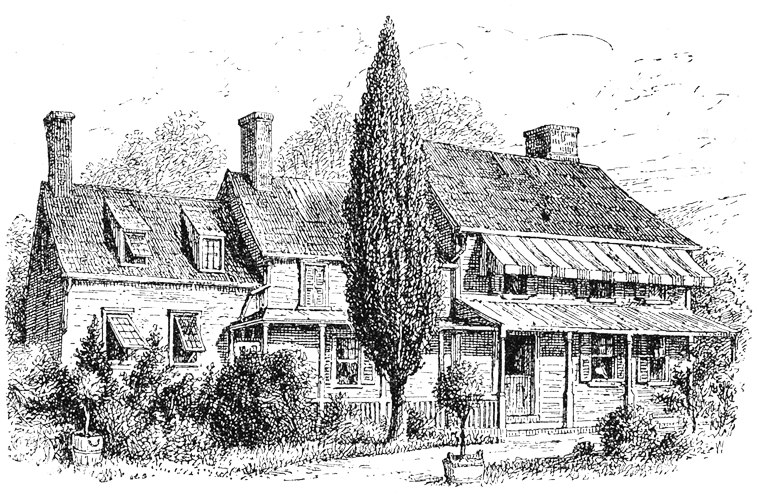 Fig. 3. The Beverly Robinson House, on the east bank of the Hudson and just downriver from West Point, played a key role in the Arnold conspiracy (see map 5). (Appleton's Cyclopædia of American Biography [E176 .A659 1888 v.1], Special Collections, University of Virginia, Charlottesville, Va.)
plot. Uncertainty still exists as to whether Smith knew Arnold's true design prior to its discovery. Smith's black servant, presumably a slave, accompanied him throughout these fateful days, but what he knew and even his name did not interest contemporary investigators. Their failure to examine this servant and leave a record has frustrated historians.
1
Arnold wrote a pass for Smith at Beverly Robinson's house on 21 Sept.: "Permission is granted to Joshua Smith Esqr. to go to Dobbs's ferry with three Men and a Boy in a Boat with a Flag to carry some Letters of a Private Nature for Gentlemen in New York and to Return immediately. … N.B. He has permission to go at Such hours & times as the tide and his buisness Sutes."2 Smith's task as liaison changed when the British sloop Vulture, with Maj. John André aboard, anchored in lower Haverstraw Bay. With considerable difficulty, Smith secured rowers for a boat, gathered André from the Vulture in the early hours of 22 Sept., and landed the British officer "about two miles below Haverstraw" for discussion with Arnold, who excluded an annoyed Smith from the meeting. The coming dawn prevented a trip back to the Vulture. Arnold ordered Smith to take the boat to a nearby creek, while he and André rode horses a short distance to the home of Smith's brother Thomas.3
Cannon firing from the shore around daybreak drove the Vulture downriver into the Tappan Zee and apparently persuaded Arnold and Smith to abandon the plan to return André to that ship for passage to British headquarters in New York.4 Joining Arnold and André at his brother's house, Smith provided a civilian coat when Arnold convinced a dismayed André that he should disguise his uniform. Later that morning, Arnold left the pair after writing a pass for Smith dated 22 Sept. that facilitated the subsequent journey across King's Ferry, N.Y., and south through Continental outposts into a contested area where irregulars operated beyond the control of either contending army: "Joshua Smith Esqr. has permission to pass the Guards to the White Plains, & to return being on public business by my Direction."5 Smith and André (whom the former reputedly knew only by the name John Anderson) departed shortly before sunset on 22 Sept. and lodged overnight in a private cottage. Smith accompanied André from early morning on 23 Sept. until parting shortly after breakfast some distance from Pine's Bridge over the Croton River. Smith then saw Arnold at Robinson's house and proceeded to Fishkill, N.Y., where he greeted his wife, Elizabeth, at the home of his brother-in-law Ann Hawkes Hay. Tired from his exertions over the previous two days, Smith immediately went to bed.6
Smith dined in Fishkill on Sunday, 24 Sept., with GW's retinue returning from the Hartford Conference.7 He conducted business in a neighboring town on Monday, 25 Sept., but was back in Fishkill late that evening. Massachusetts militia in Continental service forced entry into Hay's house around midnight and arrested Smith while he was in bed with his wife. Lieutenant Colonel Gouvion led the detachment, which then escorted an indignant Smith to Robinson's house, where they arrived on Tuesday, 26 Sept., shortly after daybreak.8
Smith was allowed a brief period to rest before GW, Major General Lafayette, Brig. Gen. Henry Knox, GW's aide-de-camp Alexander Hamilton, and GW's secretary Robert Hanson Harrison interrogated him. The intense session frustrated the questioners, who heard inconsistencies in Smith's answers and suspected that he was withholding information. Fear rose in Smith, which the arrival of André under a heavy guard did nothing to lessen.9 Smith then was asked to write his brother Thomas and misdated the letter 25 Sept.: "I am here a Prisoner, and am therefore unable to attend in Person—I would be oblidged to you if you would deliver to Captain Carns of Lee's Dragoons—a british Uniform Coat which you will find in one of the Drawers in the Room above Stairs I would be happy to see you Remember me to Your family." Smith endured another interrogation late on 26 Sept. that centered on correspondence he had held with Arnold. William Duer, a New York official responsible for ferreting out conspiracies, went to Haverstraw to view letters in a locked drawer in the Smith house.10
In the evening of this eventful day, Washington moved Smith under guard to West Point for security purposes. Smith was placed in a cell in the provost. At GW's direction, Presbyterian minister John Mason questioned Smith, who added nothing to his previous answers.11 Obviously distraught, Smith asked to see his brothers John and Thomas. GW denied Smith's request and instead ordered Smith and André taken to the army's camp. Two barges arrived on Thursday morning, 28 Sept., to transport the prisoners down the Hudson River. Maj. Benjamin Tallmadge commanded the guards. Landing at Stony Point, the prisoners mounted horses and rode to Tappan. Upon arrival at their destination, Smith was separated from André and housed in a room in the Dutch Reformed Church, which faced the town green.12
Lt. Col. Henry Dearborn wrote in his journal entry for 30 Sept.: "a Genl Court Martial sits to day for the Tryal of Smith."13 GW's orders for Smith's trial on that date, sent to Judge Advocate Gen. John Laurance, read: "You will prosecute before the Court Martial now sitting, Joshua H. Smith, Esquire, an inhabitant of the State of New York, on the following charges:—
"First.—For going on board the Vulture sloop of war, belonging to the enemy, the night of the 21st of this month in a private manner, and bringing on shore from the said vessel, Major André, Adjutant General to the British Army.
"Secondly.—For secreting the said Major André in his house near our post at Stoney Point; for furnishing him with clothes to disguise himself; and for passing with him by our posts at Stoney and Verplanck's Points, so disguised, and under a feigned name. Also for conducting him in his way to New York in a disguised habit, and under a feigned name, with intelligence for the enemy.
"Thirdly.—For acting as a spy in procuring intelligence for the enemy.
"Fourthly.—For aiding and assisting Benedict Arnold, late a Major General in our service, in a combination with the enemy, to take, kill, and seize such of the loyal citizens or soldiers of these United States, as were in garrison at West Point and its dependencies."14
Thirteen officers, with Col. Henry Jackson as president, sat in attendance at Smith's court-martial. Laurance prosecuted the case against Smith, who was given no choice but to provide his own defense. Smith challenged the military court's jurisdiction over a civilian and succeeded in having the first three charges dropped. Now subject only to the fourth charge, he watched as a parade of witnesses testified regarding his involvement with Arnold. Smith cross-examined selected witnesses (notably Harrison, Hamilton, Lafayette, and Knox) and strove to undercut implications that his actions showed complicity with Arnold's scheme. Ill health and unremitting emotional strain taxed Smith throughout the proceedings, which continued with brief breaks until 6 Oct., after which the court did not convene while the army relocated to Totowa.15
Smith's "indisposition" prevented the trial from resuming at Totowa on 11 Oct., and it began again the next day when Laurance rested the prosecution's case after calling twenty-one witnesses. Smith then commenced his defense, which consisted primarily of his own parade of witnesses to vouch for his patriotism and innocence, the most important being his brother-in-law Ann Hawkes Hay. GW intervened to secure the presence of colonels John Lamb and James Livingston and Maj. Edward William Kiers, quartermaster at King's Ferry, at the court-martial. Lamb, who testified on Friday, 20 Oct., was Smith's last witness.16
Smith delivered the summation of his defense on 24 October. He subsequently recalled: "As my life was at stake, and the interests of all that were dear to me were involved in my fate, my family then consisting of a tender wife and two young children, my energies were exerted to the utmost, and in the space of forty-eight hours I presented a defence to the court-martial, which filled a quire of paper, closely written; I read it to them, and a large part of the army, in the presence of a great concourse of the inhabitants."17 Smith's argument revolved around several "general principles:—
"1st. That General Arnold was actually a major-general in the American service at the very time I was engaged in the combination specified in the charge, and that I could not have had any agency without his sanction and direction. …
"The testimony of the two Colquhouns proved that General Arnold himself gave the instructions for us to go on board the Vulture; that he furnished the boat, directed the muffling the oars, offered the reward for their labour, and, in case of non-compliance, threatened the punishment he was authorised to inflict.
"2dly. That the charge, in the present instance, was a charge of treason against the United States; treason being a crime of the highest magnitude known in the law, the law demanded that it should be supported by the strongest testimony.
"Under this head I proved that the constitution of the State of New York had confirmed all the acts of parliament, that had been in use by the colony of New York under the ancient government, previous to the declaration of independence in July, 1776, and, consequently, the act of parliament respecting treason, passed in the reign of Edward the Third, as it had heretofore been used and considered, was in full force, and applicable to the case in question.
"This statute enacts, that each and every separate overt-act of treason shall be supported by the testimony of two witnesses. …
"In contradiction of this statute, I proved that the whole of the evidence that had been offered, could amount to no more than presumptive evidence.
"3dly. I urged as an established maxim, that in every charge or indictment for high crimes and misdemeanors, the knowledge of the party, charged with having committed the criminality, should be so stated in the charge or indictment, and made out by the most clear and conclusive testimony.
"I demonstrated, from the particulars in the charge, that this was not the case, and that not one of the witnesses had suggested the idea. …
"4thly. I averred, that in all courts of justice in particular, every man, however accused, was always presumed innocent until he was proved guilty; and that the most wise and rigid administrators of justice upon the bench, and otherwise, had invariably determined, that where the cause was doubtful, the scale of justice should preponderate in favour of the accused, upon the principle already established,—that it was better that ninety-nine criminals should pass unpunished, than that one innocent man should unjustly suffer.
"5thly[.] I proved, from the authority and usage of all courts of justice, that where the party's declaration or confession is brought as evidence against himself, that the whole must be taken together, and not abstractedly; as, if otherwise, through the art of the accuser, the most innocent man might be made to contradict and condemn himself; and—
"6thly. And lastly, I corroborated these general principles by authorities founded in reason and in law; and the concurrent usage of civil policy in all Christian and enlightened nations.
"After establishing these positions, I entered upon a critical examination of the whole evidence that had been offered, and clearly proved, that not one of the positions supported the charge exhibited against me, upon the slightest grounds of reason or equity. …
"But, lest any misconception should arise in a case wherein I was so deeply interested I recapitulated the whole evidence,—with this solemn appeal—That what I had declared to General Washington was strictly true—what I had mentioned to my confidential friend, Colonel Hay—what I then declared to the court-martial—what I should continue to declare, through every period of my life—and in that solemn day, when an omniscient God should scrutinise my conduct!"18
The court examined the evidence on 25 Oct. and resumed the following day to pronounce its verdict: "The Charge against Joshua H. Smith, Esq., the evidence produced on the trial, and his Defence being fully and maturely considered by the Court, they are of opinion that notwithstanding it appears to them, that the said Joshua H. Smith did aid and assist Benedict Arnold, late Major-General in our service, who had entered into a combination with the enemy for the purposes which the Charge mentions, yet they are of opinion, that the evidence is not sufficient to convict the said Joshua H. Smith, of his being privy to, or having knowledge of, the said Benedict Arnold's criminal, traitorous, and base designs. They are, therefore, of opinion, that the said Joshua H. Smith is Not Guilty of the Charge exhibited against him, and do acquit him of it." The court then adjourned.19
Acquittal by the court-martial did not free Smith. He next faced legal proceedings in New York courts. GW ordered Smith's return to West Point while he awaited a reply regarding the prisoner's handling from New York governor George Clinton. Smith arrived at West Point on 2 Nov., where he remained until New York authorities ordered him transferred to the Orange County jail in Goshen. Smith left for his new place of confinement on 11 Nov. and arrived the next evening.20 Smith remained at Goshen unsure of his fate until family and friends assisted his escape on 20 May 1781. He reached New York City on 4 June and put himself under the protection of the British. New York authorities promptly branded him a Loyalist and set the stage for his decision to leave the state for England when the British evacuated in November 1783.21
Several observers felt that Smith deserved death for his role in Arnold's treachery. GW's aide-de-camp Tench Tilghman wrote Lt. Col. John Laurens, then at Philadelphia, from Orangetown on 27 Sept. 1780: "Surely providence has had a hand in the timely discovery of the hellish plot, of which you have heard the report—the particulars I will give you, and the mode of discovery, as far as they have come to my knowledge … Jo: Smith (who married in Charlestown and lived near King's ferry) decamped the instant the thing took wind. He has been overtaken—is clearly a partner in the guilt, and has been by this time, or will be, hanged with André. There are doubtless more accomplices, who I hope will come out. His Excellency is still at West point endeavouring to sift the plot."22 Col. Israel Shreve wrote his wife, Mary, from Tappan on 28 Sept. that André "has been through our camp with one Joshua Smith who pretended great Whigism. Smith is since taken and [is] to grace the gallows with Mr. Andre. If this hellish plot had succeeded, it would have given our cause a dreadful wound. But thanks to God, Arnold the Traitors hopes is blasted and the providential hand appeared on our side."23 Virginia delegate Theodorick Bland wrote his friend St. George Tucker from Philadelphia on 8 or 9 Oct. to report the hanging of André and his suspicion that Smith—"one of Arnolds Accomplices and the Underworker of his Villainous plot"—might meet the same end.24
Smith pondered Arnold's treason and André's demise for the remainder of his life and eventually published an account from his perspective. Smith recalled his mood while at West Point following his acquittal: "Thus languishing under the various impressions of hope and fear, I seriously wished a termination to an existence that had become a burthen to me;—my days were imbittered by the thoughts of my afflicted family.—Even at this distance of time, my heart recoils at the recollection of those scenes of horror that tortured my imagination. It was conjectured by some, that General Washington had transmitted my case to congress for ultimate direction; by others, that, as I had appealed to the civil authority, he applied to the executive power of the state to which I belonged. I was lost in conjecture,—when, on the morning of the 10th of November, I was roused from my stupor by an officer of the horse, who delivered a note to the officer of the guard, under whose custody I was, and then, turning to me, desired me to follow him immediately; I most cheerfully obeyed, for any situation was better than the miserable state of suspense which I had so long endured."25 The many complexities surrounding Arnold's treachery have attracted perennial attention because the sources lack definitiveness. Without doubt, however, Smith's involvement with Arnold put his life on a dramatically different course, with tragic dimensions.