Editorial Note
Maj. John André's sterling career as a British army officer ended abruptly because of his role in Maj. Gen. Benedict Arnold's treachery.1 His correspondence concerning Arnold began in May 1779 and became more frequent over subsequent months. Loyalist liaisons Joseph Stansbury and Jonathan Odell facilitated the communications between Arnold and André, usually sent in code. A lull in the letters occurred during the British expedition against Charleston, which took André away from New York from late December until the next spring and brought Capt. George Beckwith, Lt. Gen. Wilhelm von Knyphausen's intelligence officer, into the circle of correspondents.2 Not long after André's return, Arnold adopted the alias "J. Moore" or "Mr Moore" for his letters and assigned "John Anderson" as an alias for André. The intensity of their exchanges increased after a letter from Arnold dated 16 June 1780 that reported the precarious situation of the Continental defenses at West Point, a place of profound strategic importance. Subsequent letters focused on a British takeover of West Point and culminated in Arnold's proposal to André on 30 Aug.—in a letter signed "Gustavus"—that they meet to discuss arrangements.3 André, in the guise of John Anderson, accepted Arnold's offer in a letter to Col. Elisha Sheldon dated 7 September. Arnold, again using "Gustavus" as an alias, informed André on 15 Sept. that Continental boats prevented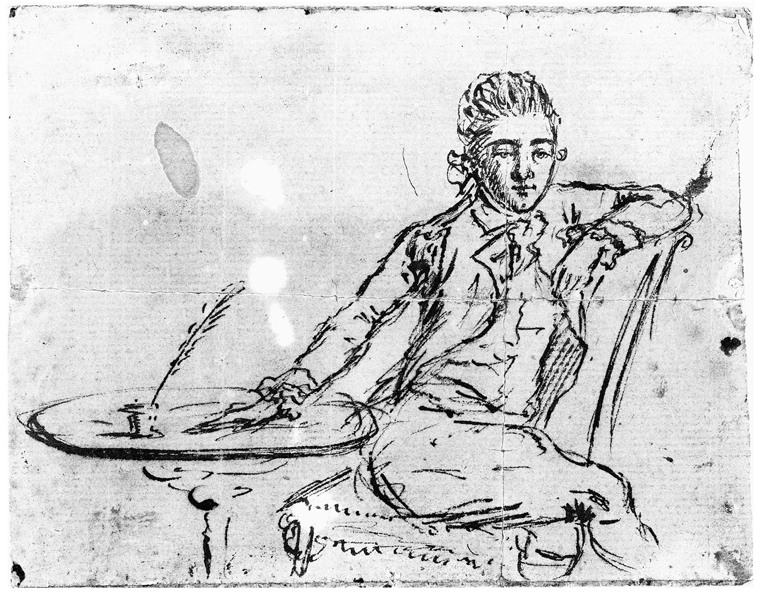 Fig. 1. Maj. John André, the British adjutant general, sketched this self-portrait while awaiting execution. (Yale University Art Gallery, 1832.103, Gift of Ebenezer Baldwin, B.A. 1808)
him from reaching their meeting. In the same letter, Arnold asked André to be at Dobbs Ferry, N.Y., on Wednesday evening, 20 September.
4
Loyalist colonel Beverly Robinson, who was to accompany André, wrote Gen. Henry Clinton from the Vulture off Sing Sing, N.Y., on Sunday, 24 Sept., with word that only André went ashore because the pass from Arnold mentioned only his name. Robinson then reported: "Majr Andrée went off with [Joshua Hett] Smith, between 12 & 1 oClock Thursday night Smith told me Arnold would be about one oClock at a place called the old Trough or Road, a little above DeNoyells with a spare horse to carry him to his house; And it is with the greatest concern that I must now Acquaint your Excellency that we have not heard the least Account of him since he left the Ship."5
By 24 Sept., irregular American militia already had taken André into custody on the outskirts of Tarrytown, N.Y., and delivered him to Lt. Col. John Jameson.6 GW soon learned about the significant prisoner, whom he decided to treat as a spy because André was captured in civilian dress and with incriminating military papers hidden in his boots.7 GW convened a board of general officers, which met on 29 Sept. and unanimously ordered André's execution.8 Clinton and other British officers strove unavailingly to secure André's release or exchange.9 André's own appeal to GW to be shot as properly becoming a soldier elicited no reply. His hanging took place at noon on 2 October.10
André's plight and the purpose of Arnold's treachery enthralled residents in British-occupied New York, where printer Hugh Gaine tracked reports and rumors in his journal beginning on 27 Sept.: "Major André who went out to confer with General Arnold is taken by General Washington and 'tis supposed will be ill used." Gaine wrote on 28 Sept.: "Major André is well and 'tis said is turned over to Congress by General Washington. 'Tis said an attack was intended against West Point, by our Troops, but we concluded that is now given over for the Present." He continued on 29 and 30 Sept.: "Various Reports concerning Major André and Mr. Smith his Guide. … There certainly was an Attack intended against West Point and that very Serious." News turned grim on 1 Oct.: "An Account that Major André and Mr. Smith are both to be executed. In Consequence of which General Robertson, Mr. Elliott, Hon. Wm. Smith &c. &c. are gone up the River to see what can be done with Washington." Gaine was only partly accurate in his entry for 3 Oct.: "General Robertson returned from the Rebel Camp, but got little satisfaction concerning Major André otherwise, than that he was not hanged." More accurate information appeared in Gaine's entries for 6 and 7 Oct.: "An Account that Major André was Hanged. A Confirmation of the Execution. … Great Lamentations for the Loss of Major André: He is no more."11
Lt. Col. John Graves Simcoe had taken steps to recapture André with his Queen's Rangers, thinking that the major would be sent to Philadelphia because GW "would not proceed to extremities" without congressional approval. Simcoe then exchanged letters with Maj. Henry Lee, Jr., hoping "to converse with him relative to Major André." Learning that André would be executed, Simcoe wrote Lee: "The useless murder of Major André would almost, was it possible, annihilate that wish which, consentaneous to the ideas of our sovereign, and the government of Great Britain, has ever operated on the officers of the British army, the wish of a reconciliation and speedy re-union with their revolted fellow subjects in America." André's "murder" angered Simcoe and "totally eradicated" any favorable thoughts he held toward Continental generals, with GW presumably being foremost.12
Clinton never overcame his anger at GW for executing André.13 In his memoirs, Clinton asserted that GW "burnt with a desire of wreaking his vengeance. … And consequently, regardless of the acknowledged worth and abilities of the amiable young man who had thus fallen into his hands, and in opposition to every principle of policy and call of humanity, he without remorse put him to a most ignominious death." Clinton continued: "Mr. Washington ought also to have remembered that I had never in any one instance punished the disaffected colonists within my power with death, but on the contrary had in several [instances] shown the most humane attention to his intercession, even in favor of avowed spies. His acting, therefore, in so cruel a manner in opposition to my earnest solicitations could not but excite in me the greatest surprise, especially as no advantage whatsoever could be possibly expected to his cause from putting the object of them to death. Nor could he be insensible—had he the smallest spark of honor in his own breast—that the example, though ever so terrible and ignominious, would never deter a British officer from treading in the same steps whenever the service of his country should require his exposing himself to the like danger in such a war. But the subject affects me too deeply to proceed, nor can my heart cease to bleed whenever I reflect on the very unworthy fate of this most amiable and valuable young man, who was adorned with the rarest endowments of education and nature and, had he lived, could not but have attained to the highest honors of his profession!"14
News of Arnold's treachery and André's fate reached Parliament on 13 Nov., when Horace Walpole wrote in his journal about "an account of General Arnold, the butcher's son, who had behaved so bravely and been dangerously wounded, and who now commanded the advanced guard of Washington's army, having offered Sir H. Clinton to betray the whole corps to him if he would advance. Clinton had sent his Lieutenant, Major-General St. André, son of St. André, the surgeon, to settle the terms. St. André was taken by three Americans, who carried him to Washington, on which Arnold had made his escape by the North River to Clinton. Washington offered Clinton to release St. André on Arnold being given up, and on refusal hanged St. André, who only begged to be shot. This was probably provoked by Lord Cornwallis's having hanged 120 Carolinians."15
Writing a surgeon in Manchester, England, on 20 Jan. 1802, British poet Anna Seward, who lived in Lichfield, related that "General Washington allowed his aide-de-camp to return to England after peace was established, and American independence acknowledged; and he commissioned him to see me, and request my attention to the papers he sent for my perusal; copies of his letters to André, and André's answers, in his own hand, were amongst them. Concern, esteem, and pity, were awowed in those of the General, and warm entreaties that he would urge General Clinton to resign Arnold in exchange for himself, as the only means to avert that sacrifice which the laws of war demanded. Mr André's letters breathed a spirit of gratitude to General Washington for the interest he took in his perservation, but firmly declined the application to General Clinton. The other papers were minutes of the court-martial, from which it appeared, that General Washington had laboured to avert the sentence against André, and to soften the circumstances of disguised dress, and of those fatal drawings of the enemies' outworks and situation, which placed him in the character of a spy rather than that of a negotiator. The General's next fruitless endeavour was to have obtained the grant of poor André's petition, to die a less disgraceful death. His voice, though commander of the American armies, counted but as one on the court-martial. General Washington did me the honour to charge his aide-de-camp to assure me, that no circumstance of his life had given him so much pain as the necessary sacrifice of André's life, and that next to that deplored event, the censure passed upon himself in a poem which he admired, and for which he loved the author; also to express his hope, that, whenever I reprinted the Monody, a note might be added, which should tend to acquit him of that imputed inexorable and cruel severity which had doomed to ignominious death a gallant and amiable prisoner of war.
"With that just request I immediately complied, by a paper sewed to the copy of my poem, from which I mean the future edition should be printed, if I should live to collect my works and publish them in a miscellany. …
"From the hour I conversed with General Washington's officer, and perused these papers, I have regretted the injustice of which I had been guilty, without any consciousness that I was injurious." No corroboration has been found for Seward's intriguing recollection.16
For noteworthy secondary works on André, see Sargent, André description begins Winthrop Sargent. The Life of Major John André. New York, 1871. description ends ; Abbatt, Arnold and André description begins William Abbatt. The Crisis of the Revolution: Being the Story of Arnold and André: Now for the First Time Collected from all Sources, and Illustrated with Views of all Places Identified with it. New York, 1899. description ends ; Hatch, André description begins Robert McConnell Hatch. Major John André: A Gallant in Spy's Clothing. Boston, 1986. description ends ; and Walsh, Execution of André.