To George Washington from Thomas Johnson, 15 June 1795
From Thomas Johnson
Frederick [Md.] 15 June 1795.
Sir
The general Sentiment you disclosed on the Differinces between the Commissioners and me when I had the pleasure of seeing you in George Town,1 intirely correspondent to my Ideas of Propriety, renders it unnecessary and improper for me to go into the Merits of my Claim to the Square West of 4. and now that I find it necessary, against my Inclination, to complain to you of Messrs Scott and Thorntons Conduct towards me, forbearing to detail many reprehensible Parts of it, I shall confine myself to a few recent Transactions on which I ground my Application for your Interference.
Before I met you at George Town, I had Reason to suspect these two Gentlemen designed to lay their State of my Business before you: but from your not mentioning any Thing to that Purpose I concluded they had not done it, thought they would not and therefore came Home. Afterwards I understood fr⟨om⟩ Colo. Deakins, who had it from Genl Forest, they wrote you a Letter whilst you were at Mount Vern⟨on⟩ on this Subject and that Genl Forest afterwards saw the Draft or Copy of it.2
Thinking Circumstances might probably arise when Mr Greenleaf was present and Mr White ent⟨mutilated⟩ on Office to put my Claim in a way of decision, especially as I was told Genl Forest was disposed to wave his Purchase on having his Money returned, I went to the City with a real Disposition for Peace if it could be honorably obtained. Unluckily Mr White did not come, nor after being there several Days could I collect any Circumstance, for I had no Conversation with them, which intimated the least Change of Disposition towards me. Independant as I feel myself of the Favors of the whole World my Sensibility is alive to the well earned good Opinion of the Few, and therefore however careless of Misrepresentation in general I am extremely anxious to meet any false Suggestions to you: I know I can unravel any Thing these Gentlemen can alledge prejudicial to me, to their Confusion; and I wish nothing more than to face them before Men of Honor and Discernment which I long agoe proposed and they declined.
I take the Liberty, Sir, of inclosing you Copies ⟨of m⟩y Letters to them whilst I was last at George ⟨Tow⟩n and theirs to me whilst there and since:3 It is ⟨my⟩ wish that you direct them to give me the Inspection ⟨Co⟩pies of their official Proceedings relative to this ⟨c⟩ase including what they have laid before you ⟨conc⟩erning it—that you will be pleased too to arrest ⟨mutilated⟩ Powers as to this Square till my Claim is ⟨deter⟩mined, though I have Reason to suspect that ⟨mutilated⟩ Day after I had obtained a Copy of the Square, without Notice to me they perfected as they think their work—this I speak as Suspicion only for all their Transactions with General Forest have been kept secret as far as they could keep them secret from me.
In the manner of my writing to the Gentlemen I may have been wanting to myself, they have no Pretentions to more Respect from me than they have met with for their Actions betray a want of Probity as well as Understanding—and I feel as strong Desire to go into an Investigation of their Conduct and mine. I know your delicate Situation and have long wished the Offer to come from them it would remove all Difficulties and I believe terminate in the Benefit of the City. I am sir with the truest Respect Your most obdet humble Servant
ALS, DNA: RG 59, Miscellaneous Letters.
1. GW evidently met with Johnson at Georgetown before leaving for Mount Vernon on the morning of 19 April (see GW to Daniel Carroll, 17 May; Diaries, description begins Donald Jackson and Dorothy Twohig, eds. The Diaries of George Washington. 6 vols. Charlottesville, Va., 1976–79. description ends 6:200).
3. Johnson enclosed copies of several recent letters between himself and commissioners Gustavus Scott and William Thornton, as well as a map of the square (DNA: RG 59, Miscellaneous Letters). See Figure 4.
Johnson's letter of 3 June to Scott and Thornton conveyed his understanding that they had informed GW of Johnson's "Business." He asked to look at all information sent to the president and to obtain a copy.
The next day Scott and Thornton replied: "We do not think ourselves at Liberty to submit our official Communications to the Examination of any private Gentleman … The President is the best Judge whether you ought to have the Copy or Extracts asked for." They then repeated their offer "to make such a Division as the Law would have contemplated had the Property not been bound up in our Power by your Act."
In Johnson's response of 9 June he argued: "I had no Expectation that you would again revive any Thing concerning Mr Peter & the Commrs Signatures to the Square West of 4. On the Entry I drew up as your Proceeding of the 8th of January for I thought by your admitting that I was intitled to Mr Peter's Moiety you intended to admit the necessary Consequence that this Property is not bound up in your Power and that you can no more injure it or oppose me in it than if my equitable Interest was cloathed with a legal Title—and I imagined that as you declined the Investigation I proposed in my Letter of the 16th of February—as you declined filling up the Blank left the 8th of January—and that as you must have been informed of my having Colo. Deakins and Mr Cranch's Depositions which confute Doctr Thorntons groundless and injurious Aspersion I should [have] heard nothing more of your Absurdities or Contradictions on these Heads But the more Intercourse I have with you the less I wonder at the Confusion so obvious in your Letters and Conduct—one has an empty Space to fill up with Ideas on Trusts, equitable Interests and legal Titles—the other, a still harder Task, he has his Head to clear of the Lumber which crowds it to make room for what is correct."
Johnson then complained that he did not recollect any "Disposition" since 8 Jan. from Scott and Thornton to give him justice. He claimed they had reversed their attitude by at least 5 February. "I challenge you," Johnson wrote, "to refer to one Act of yours since that Time which is not strongly tinctured with partiality against me." Johnson reminded the two men of his letter to them of 12 Feb. in which he asked that they answer several questions. They had promised to take action as soon as other engagements permitted, but adjourned soon after, Johnson charged, thus depriving him of "an Answer to either of the Questions for a long Time, and to one of them at least I have no definite Answer yet." The two commissioners, Johnson concluded, "must be swoln indeed with your own Importance to imagine that it becomes you to throw such contemptuous Neglect on me."
Scott and Thornton had promised Johnson a copy of the square on 18 Feb., he reminded them. But he had "been dangling about your Office and applying to Dermot for it … more than twenty Times and could never get it 'till Yesterday—The Square contains about eleven standard Lots of 5265 sq. feet to a Lot—you have laid it into two Lots of less than 4300 sq. feet each and the rest in four Lots only—You are not ashamed to disclose upon it that from your partiality or Ignorance, take your Choice, if Genl Forest gets the Ground he will have upwards of a standard Lot as measured to me a clear Gain to him and this by beginning for him at high water Mark a spot you saw in way of your official Rides.
"Morris and Greenleaf are confessedly intitled to choose the back Lots and I made that Remark to the Comrs the 11th of February—Doctr Thornton observed upon it that 'we … may lay out the whole Square into water Lots': I then thought it one of his Starts, for he has a wonderful facility in making Objections and answering Objections tho' the Thing is generally left where he finds it. But I now perceive that it is the deliberate Sentiment of both of you—You can as it were by Magic sink a whole Lot in favor of Genl Forest make a South Front on K Street; back Ground to Canoe & Scow waters Front and lay off Lots 317 feet deep to cut me out of the back Lots under my purchase from Morris & Greenleaf. I shall not concur in a Division of such Lots to take place in any Event and I expect you will be one Day hard pressed to find ostensible Reasons to cover this adroit Conduct which I intend to introduce into my Bill."
Johnson pointed out that in his letter of 15 Feb. he had complained that the commissioners offered more of the square to Uriah Forest. In Scott and Thornton's answer later that day, they "not only denied the Fact but seemed displeased at my crediting the Report of it." Johnson then complained, "You now refuse to give me Information of your Communications with the President on my Business 'because you do not think yourselves at Liberty to submit your official Communications to the Examina. of any private Gentleman.' I ask you a plain Question have you or have you not submitted those Communications to a private Gentleman? I don't suppose you will answer me but perhaps you may be inclined to answer the same Question to the Presidt for unwilling as I am to give him Trouble, I shall apply to him for his Directions that I may have Information by Inspection or Copies of what you have laid before him and all other Office papers respecting this Square and I shall request him to suspend your Powers to act any farther on it 'till my Claim can be fully determined."
Johnson decided to make such "explicit" statements "to prevent your unjustifiable pursuit of a Conduct calculated to perplex and intangle a Case very simple in itself." He felt certain that a contact with GW "may lead to give you the pleasure of an Investigation which you seemed to wish in your Letter of the 15th of February." In a postcript, he added: "I wish to correct every inaccuracy—the difference of measure between what is laid down for Genl Forest on the Square originally returned is not so great on the examination as I have represented the nearest I can come to it is 75 by 46—5.[46 feet 5 inches] i.e. 3481.3."
Scott and Thornton sent a terse reply on 10 June: "We conceive it peculiarly indecent in you, having been in public Life, to offer Insults to us as Servants of the public; more especially, as decent Language was returned by us to all the disgraceful Epithets of your former Letters. We are willing to attribute the whole of your Conduct to a derangement of Mind, which we lament: and therefore consider you rather as an Object of pity than of Resentment. We return your last Letter, and refuse all further Communication, 'till a Return of Reason point out the propriety of using at least the Language of a Gentleman" (DNA: RG 59, Miscellaneous Letters).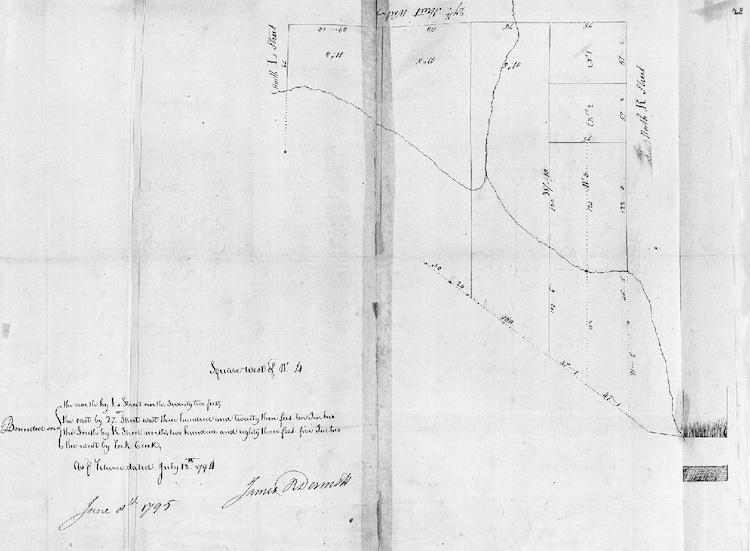 Fig. 4. The square west of No. 4. (National Archives, College Park, Md.)