Enclosure: Josiah Meigs and Robert King, Geometric Meteorological Chart for Washington, D.C., 1820, [by 3 May 1821]
Enclosure
Josiah Meigs and Robert King, Geometric Meteorological Chart for Washington, D.C., 1820
Geometric Exemplification
of
Temperature Wind and Weather
for 1820.
at Washington City.
Lat. 38°–53′–30.″ North. Long. 0.
General Land-Office,
Josiah Meigs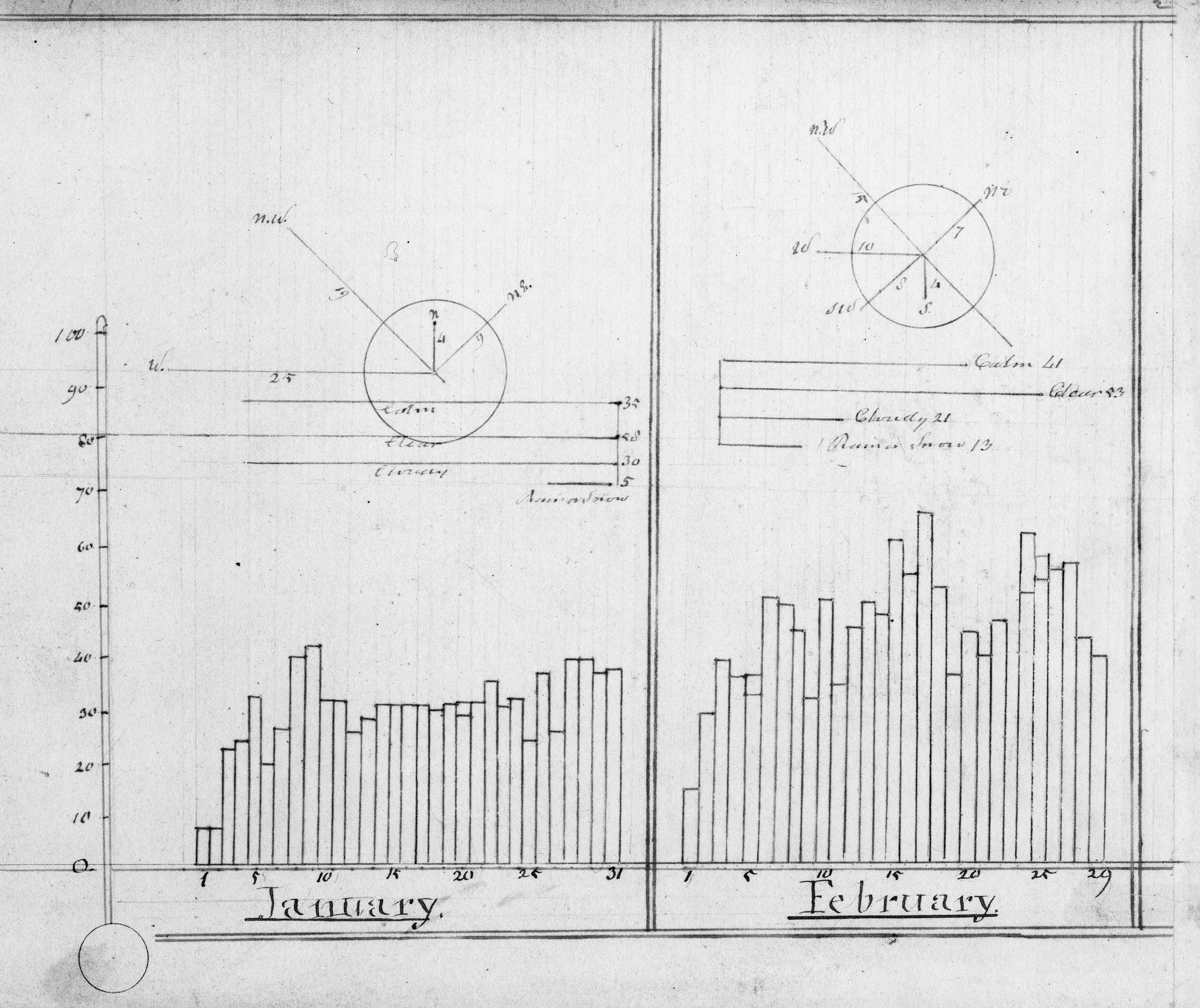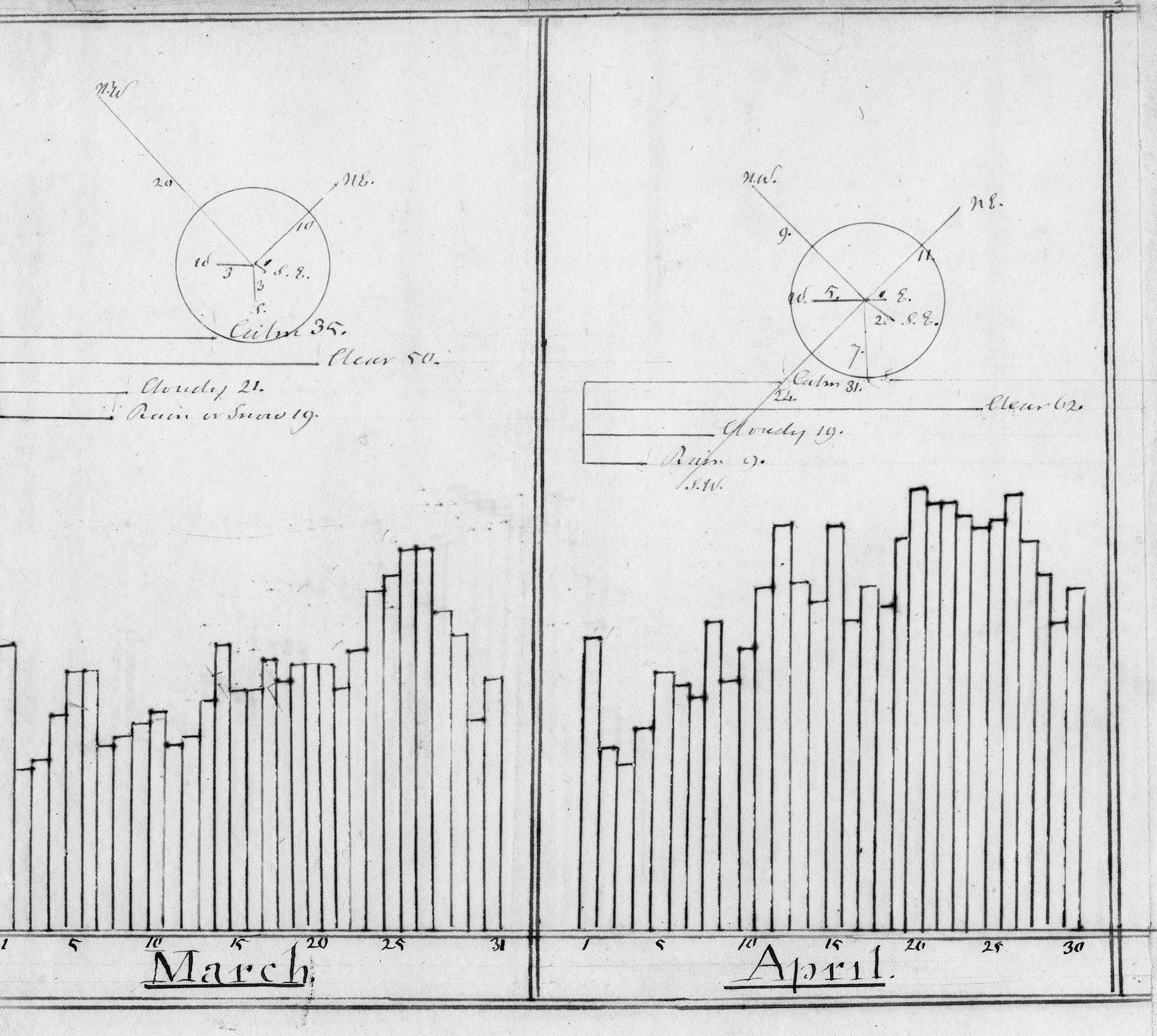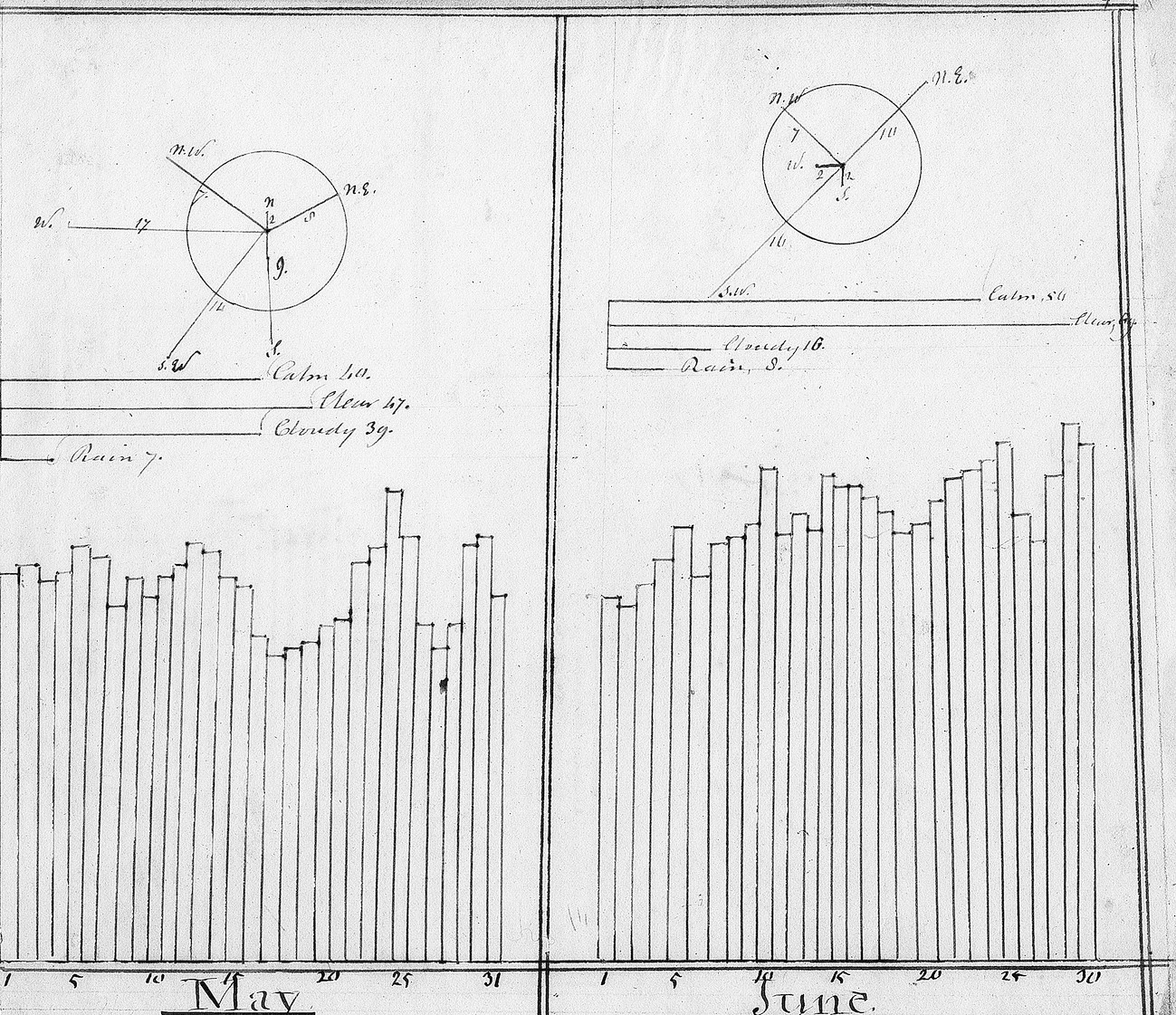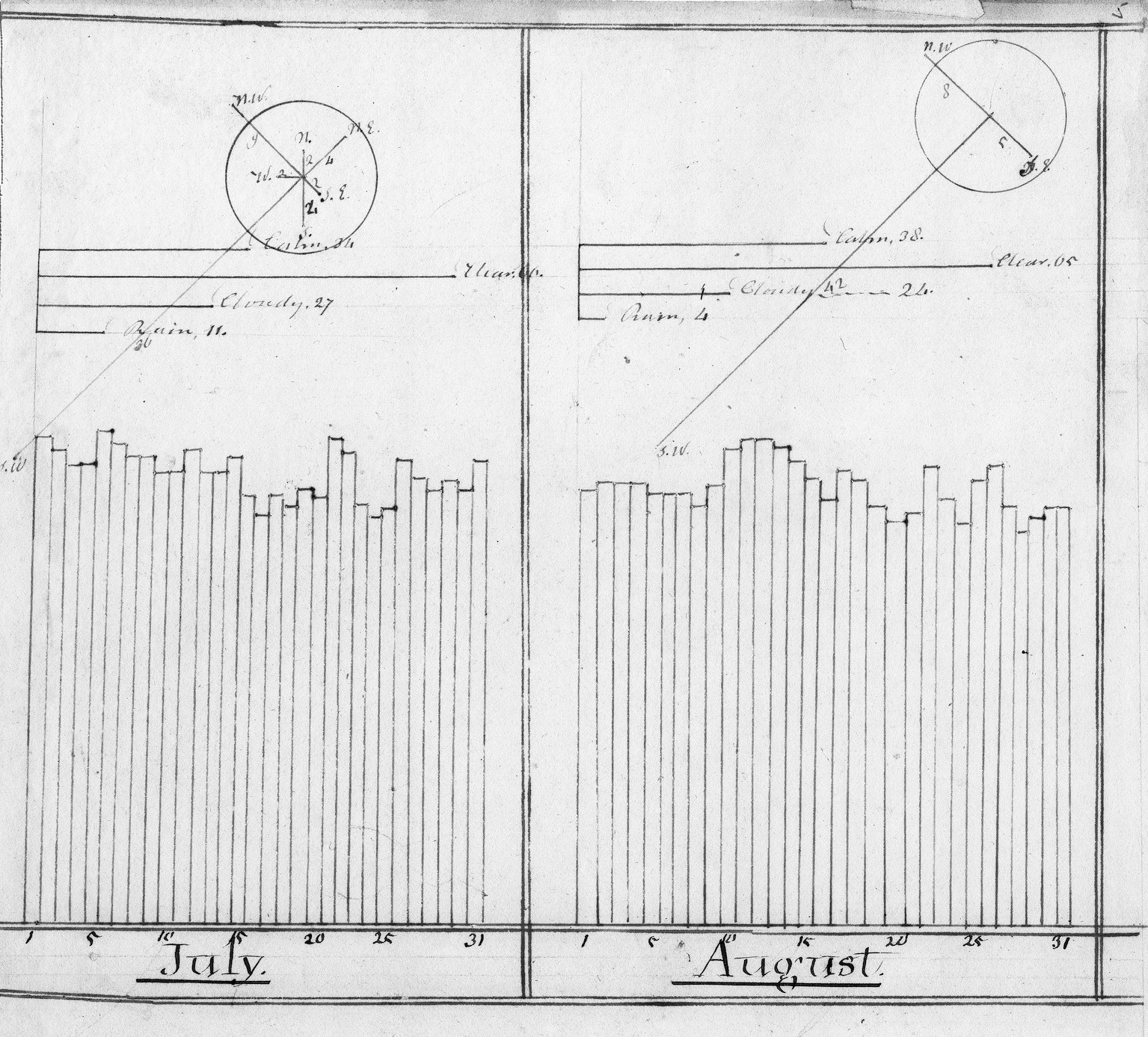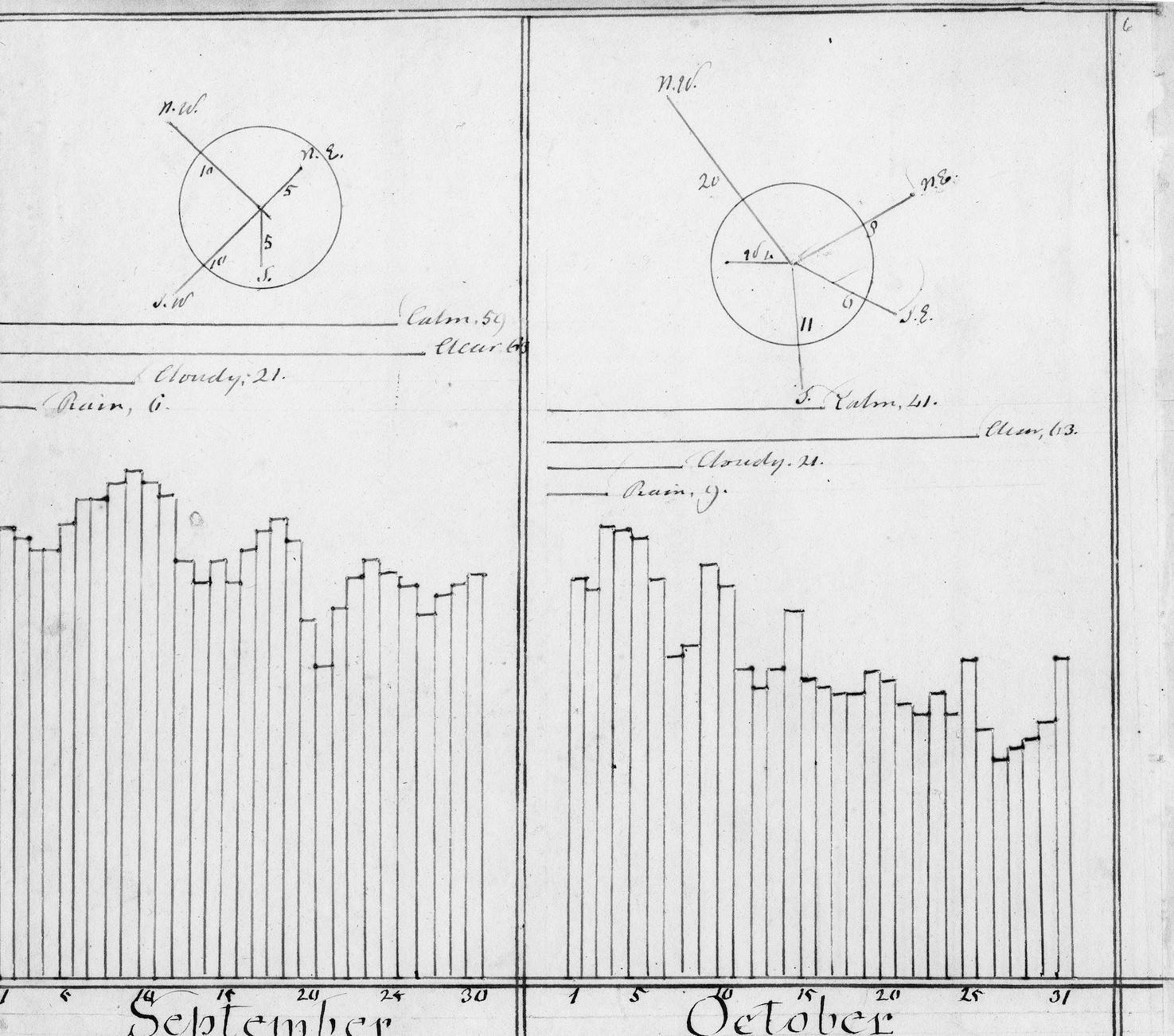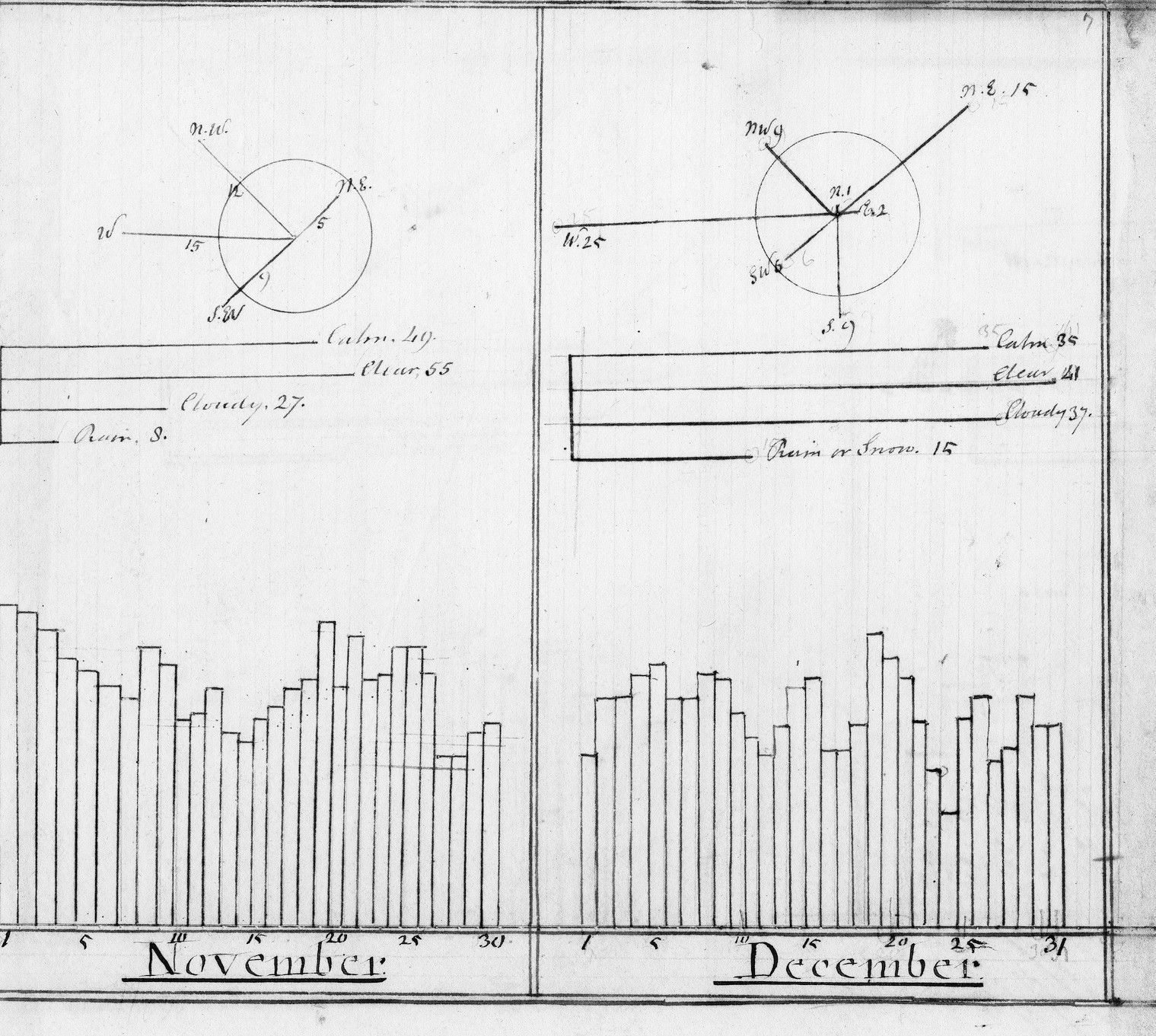 Washington City. 1820
Mean Altitude for each Month
Mean of 1820.
Winds. W. City. 1820.
North
South
East
West,
N. West 
S. West.
N. East
S. East,
9.
54.
3.
115.
145.
174 
92 
28.
Weather. W. City. 1820

MS (PPAmP: APS description begins American Philosophical Society description ends Archives); in Meigs's hand, with graphic sections drawn by King; undated; endorsed by John Vaughan, librarian of the American Philosophical Society: "Presented Oct. 19. 1821."
Robert King (1775–1831), surveyor and draftsman, was born in Yorkshire, England. He came with his family to the United States in 1797, when his father, also named Robert King, began working in the city surveyor's office in Washington, D.C. King served in the same office, 1800–01, 1812–13, and 1815–17, and he was the principal draftsman in the General Land Office from 1813 until his death. In 1818 he compiled and published a single-sheet map of Washington. Only the second such map to be printed, King's work led to an important early copyright-infringement case, with King as plaintiff. He died in Washington (Ralph E. Ehrenberg, "Mapping the Nation's Capital: The Surveyor's Office, 1791–1818," Library of Congress, Quarterly Journal 36 [1979]: 309–16; Ehrenberg, "Nicholas King: First Surveyor of the City of Washington, 1803–1812," RCHS description begins Records of the Columbia Historical Society, 1897–1989 description ends 69/70 [1971]: 44–5, 46; PTJ description begins Julian P. Boyd, Charles T. Cullen, John Catanzariti, Barbara B. Oberg, James P. McClure, and others, eds., The Papers of Thomas Jefferson, 1950– , 44 vols. description ends , 34:198–200, 37:544–6, 41:418–21; Washington Daily National Intelligencer, 2, 7 Feb. 1831; gravestone inscription in Rock Creek Cemetery, Washington).
The copy of the chart sent to TJ has not been found. Meigs tramsmitted the above version to Vaughan on 6 Sept. 1821, and Vaughan presented it to the American Philosophical Society on 19 Oct. 1821 (Meigs to Vaughan, 6 Sept. 1821 [PPAmP: APS description begins American Philosophical Society description ends Archives]; APS description begins American Philosophical Society description ends , Minutes [MS in PPAmP]).
In each of the monthly sections reproduced above, the bar graph at foot represents daily temperatures; the horizontal lines above that show the proportion of calm, clear, cloudy, and rainy or snowy days; and the top drawing shows wind direction. The concluding sections then provide annual averages for each of these categories.
This document has the prime meridian of zero degrees longitude (long. 0.) running through Washington rather than Greenwich, England. This nationalistic effort was championed by TJ and achieved some initial success before the United States joined other nations in accepting Greenwich as the universal prime meridian in 1884 (Silvio A. Bedini, The Jefferson Stone: Demarcation of the First Meridian of the United States [1999]; William Lambert to TJ, 13 June, 23 July 1809; TJ to Lambert, 10 Sept. 1809).
could he, whose rules the rapid comet bind … what reason weaves by passion is undone quotes from Alexander Pope, An Essay on Man. In Epistles to a Friend. Epistle II (London, [1733]), 7. A stanza later added by Pope, beginning trace science then, with modesty thy guide, was published posthumously (Pope, An Essay on Man. Enlarged and Improved by the Author. With Notes by William Warburton, M.A. [London, 1745], 17).