Thomas Jefferson's Membership Diploma in the Imperiale e Reale Accademia Economico-Agraria dei Georgofili di Firenze, 15 January 1820
Membership Diploma in the Imperiale e Reale Accademia Economico-Agraria dei Georgofili di Firenze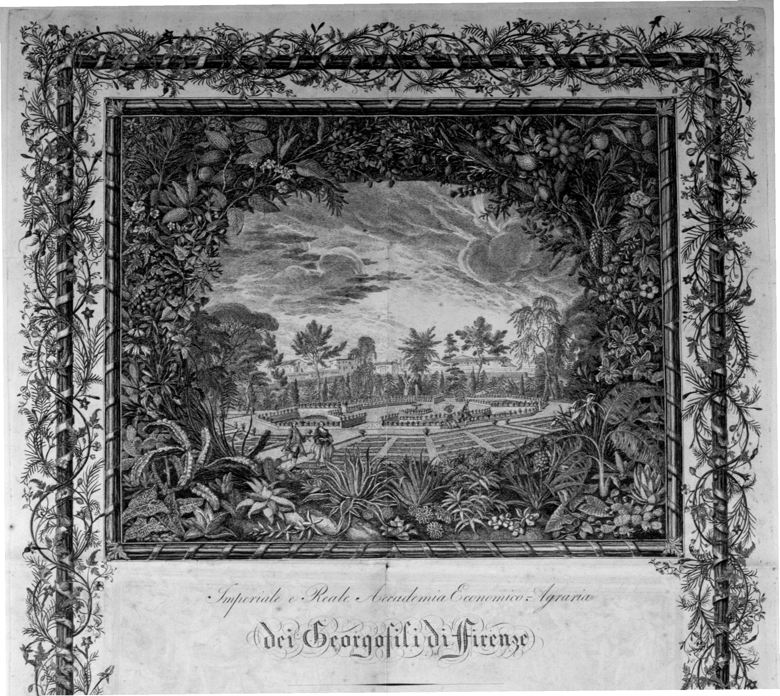 Intenta sempre l'Accademia ad ascrivere nel numero dei suoi membri le persone che non solo possono recarle decoro con il loro nome, ma ancora esserle utili con la comunicazione d'esperienze e di scritti diretti all'avanzamento delle cognizioni teoriche e pratiche riguardanti l'Agricoltura e qualunque altro Ramo d'Economia pubblica e privata; e delle Scienze ed Arte in quei particolari che con esse abbiano relazione, ha nell'Adunanza ordinaria de Due Gennajo Milleottocentoventi eletto Voi Eccellenza Mr Thomas Jefferson per uno dei suoi Seg Corrispondenti e perciò Ve ne diamo la presente in prova della vostra ammissione, e come un attestato del vostro merito e della nostra stima per Voi.
Data in Firenze nella Residenza dell'Accademia questo di 15. Gennajo 1820.
| | | |
| --- | --- | --- |
|  Vice Presidente | | Segretario degli Atti |
|  U D Nobili | | Pr. Filippe Nesti |
Editors' Translation
Always determined to enroll in its membership those persons who not only can grace it with their names but also be useful by communicating experiences and writings aimed at the advancement of theoretical and practical knowledge concerning agriculture as well as any other branch of public and private economy, the sciences, and the arts concerned with particular aspects of agriculture, the Academy has at its regular meeting of Two January One Thousand Eight Hundred and Twenty elected your Excellency Mr Thomas Jefferson one of its Corresponding Members. We therefore give you the present certificate as proof of your admission, and as a testimony of your merit and our esteem for you.
Issued in Florence, at the headquarters of the Academy this 15. January 1820.
| | | |
| --- | --- | --- |
|  Vice President | | Recording Secretary |
|   U D Nobili | | Pr. Filippo Nesti |
MS (ViCMRL); printed diploma, with blanks filled in by hand as indicated in italics, signed by Uberto De Nobili and Filippo Nesti; with ornamental border extending to foot of text and image depicting the redesigned Giardino dei Semplici.
The Imperiale e Reale Accademia Economico-Agraria dei Georgofili was founded as a private society in Florence in 1753 by the Catholic canon Ubaldo Montelatici to promote the application of scientific experimentation to the improvement of agriculture in the grand duchy of Tuscany. In 1767 it became an official academy under the patronage of Grand Duke Peter Leopold, who allowed the organization to locate its headquarters in Florence's town hall and stressed its role in his plans to revive Tuscany's agricultural and natural resources. In 1783 the government ordered the dissolution of the Società Botanica Fiorentina and the transfer of its members and duties to the newer academy. Thus the administration of the city's medicinal garden, the Giardino dei Semplici, passed to the Georgofili, which transformed it into a venue for agricultural experimentation, with a redesigned landscape plan by Leonardo Frati and a new name, Orto o Giardino spreimentale dell'Accademia dei Georgofili. The organization published its findings from this work in its proceedings, which date from 1791, and later in the garden's own reports beginning in 1810. The Georgofili took an interest in education, and starting in 1819 it established schools in Florence. Academy member and later president Cosimo Ridolfi ran an agricultural school affiliated with the organization at his estate at Meleto between 1834 and 1842. TJ, James Madison, and James Monroe were among those named as foreign corresponding members (Marco Tabarrini and Luigi Ridolfi, Degli Studj e Delle Vicende della reale Accademia Dei Georgofili nel primo secolo di sua esistenza [1856], esp. 7–44, 173–7, 203, 208; Accademia dei Georgofili [2015], 8, 18, 23, 35, 54; Piero Luigi Pisani and Paolo Nanni, "Gli Orti Agrari di Firenze," Rivista di storia dell'agricoltura 36 [1996]: 69–93).
Uberto De Nobili (d. 1821), public official, attended the University of Pisa. Soon after completing his studies he was appointed superintendent of the scriptorum of the military order of Santo Stefano in Pisa, and he eventually joined the order. When Tuscany was incorporated into the French empire, De Nobili was named subprefect of the Mediterranean department, with his office in Pisa. After Ferdinand III regained control of Tuscany in 1814, De Nobili was assigned to administer the funds returned to the state and to the religious bodies that had been suppressed under French rule. Later he served as a deputy of the royal lottery company until his death. De Nobili became a member of the Accademia dei Georgofili in 1789, helped write its new constitution in 1817, and afterwards served a three-year term as vice president (Continuazione degli Atti dell'Imp. e Reale Accademia Economico-Agraria dei Georgofili di Firenze 4 [1825]: 24–8; Tesoro del Foro Toscano [Florence, 1820–40], 24:77; Tabarrini and Ridolfi, Degli Studj e Delle Vicende della reale Accademia Dei Georgofili, 126, 173).
Filippo Nesti (1780–1849), naturalist, was born in Florence and studied at the city's seminary, the Collegio Eugeniano, and then at the University of Pisa. In 1807 he became a science professor in a new public high school at the Reggio Museo di Fisica di Firenze. Twelve years later he was named prefect of the museum, and in 1833 he was made professor of mineralogy and geology. Nesti became a member of the Accademia dei Georgofili in 1807 and was its recording secretary, 1819–20 (Continuazione degli Atti della R. Accademia Economico-Agraria dei Georgofili di Firenze, new ser., 4 [1857]: 34–59).