"Common Sense & Co." to Thomas Jefferson, 12 January 1819
From "Common Sense & Co."
Arendes (Hell) New London Jany 12th 1819
Infernal Wretch
What can be your thoughts on the distracted Country by your Philosophical arts & intrigues (Embargoes &c) for if the righteous is scarcely saved where will thee &c appear I wish you a warm reception—as also another whom would be duly gratified within the lower regions & as a Ferryman of Charons Ferry Boat built on the model of Gun Boat No 1 I wish that you send me a Commodore worthy of notice & recommendations will be required endors'd on the back of Mazzies (Letter)—we your most truly petitioners1 have reverence for thy latter days & may the hour shortly come when Jefferson, Paine, & Volney shall Furnish all the requistions of the lower Republic
We are your invisble
[. . .]
Common Sense & Co
RC (DLC); one word illegible; internal address on verso reading "Th: Jefferson Late President of The U States Monticello Virginia" embedded in ornamental swirl: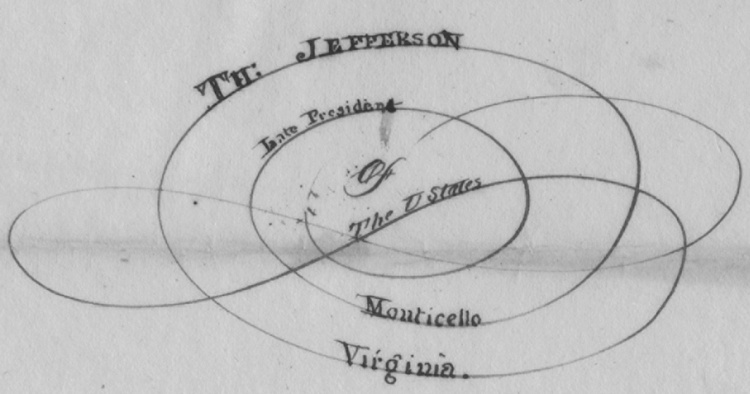 endorsed by TJ (trimmed) as an anonymous letter from a "blackguar
[d]
" received 22 Jan. 1819 and so recorded in SJL. RC (MHi); address cover only; with PoC of
TJ to William Tudor, 31 Jan. 1819
, on verso; addressed: "Hon
e
Thomas Jefferson Monticello Virginia"; stamped; postmarked Colchester, Conn., 12 Jan.
gun boat no 1 of the naval fleet that TJ ordered constructed during his presidency was commissioned in 1804. After it was deemed unfit for ocean duty, it became part of the coastal defense force (Spencer C. Tucker, The Jeffersonian Gunboat Navy [1993], 38). mazzies (letter) was TJ to Philip Mazzei, 24 Apr. 1796, which sharply criticized the Federalist party and George Washington and was widely published in Europe and the United States beginning in 1797 (PTJ description begins Julian P. Boyd, Charles T. Cullen, John Catanzariti, Barbara B. Oberg, and others, eds., The Papers of Thomas Jefferson, 1950– , 41 vols. description ends , 29:73–88).
1. Manuscript: "petitoners."