Matthew Pate's Survey of Eighteen-Acre Tract Adjacent to Poplar Forest, 30 April 1818
Matthew Pate's Survey of Eighteen-Acre Tract Adjacent to Poplar Forest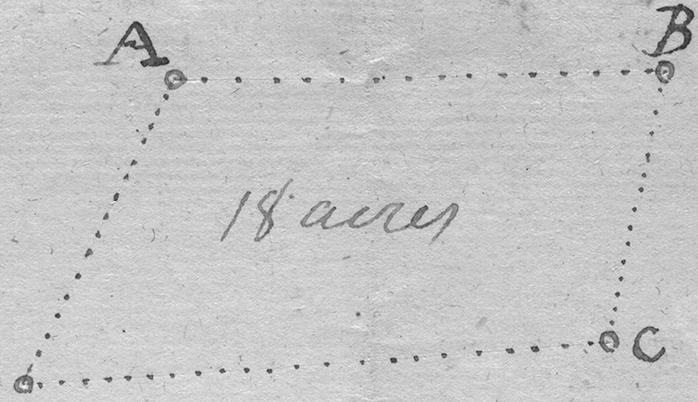 Surveyed for Thomas Jefferson 18 acres of Land (by Virtue of a Land Office Treasury Warrant granted to him the 27th day of June 1812 for 100 acres & No 4915) Situate in the County of Bedford & Bounded as follows viz Begining at pointers Corner to his own popler forest tract thence along his own lines S 40½ E 68 poles to pointers S 62 W 38 poles to Cobbs Corner Red oak thence along his line N 43½ W 81 poles to a stake in a line of the Said popler forest tract thence along said line N 75 E 47 poles to the first Station—
NB there being a ballance of 82 acres of the above warrant Still unappropriated1 it is therefore retaind in my Office for further use.—
MS (Vi: RG 4, Virginia Land Office, Plats and Certificates); in Pate's hand; docketed in a clerk's hand: "Thomas Jefferson's 18 acres Bedford Recd 2nd July 1818. Gt issued 1st June 1819 $2.53 Recorded and Book H page 16"; filed with covering sheet docketed in a clerk's hand: "Platt & Certificate of T. Jeffersons land."
An undated bill from Pate lists the charges for this survey:
"Tho

s

Jefferson to the Sur

er

of Bedford 
Dr

 To making two Locations &C.—

$1.02

 To making one Survey 18 acres—

 5.25
$6.27"
(MS in ViU: TJP; in Pate's hand, with his signature and docket: "Acc
t
T. Jefferson with M P. SBC"; endorsed by TJ: "Surveyor of Bedford").
TJ received a land grant for this property dated 1 June 1819, which reads "Peter V. Daniel Esqr Lieut: Governor of the commonwealth of Virginia To all to whom these presents shall come Greeting Know Ye that in conformity with a survey made on the thirtieth day of April 1818; by virtue of a Land Office Treasury warrant Number 4915 issued the 27th June 1812; there is granted by the said Commonwealth, unto Thomas Jefferson A certain tract or parcel of Land, containing Eighteen acres situate in the County of Bedford and bounded as followeth to wit: Beginning at pointers corner to his own poplar forest tract thence along his own lines South forty and a half degrees East sixty eight poles to pointers, South sixty two degrees West thirty eight poles to Cobbs corner red oak thence along his line, North forty three and a half degrees West eighty one poles to a stake in a line of the said poplar forest tract, thence along said line North seventy five degrees East forty seven poles to the Beginning, To have and hold the said tract or parcel of Land with its Appurtenances, to the said Thomas Jefferson and his heirs forever. In witness whereof, the said Peter V. Daniel Esqr Lieut: Governor of the commonwealth of Virginia hath hereunto set his hand and caused the lesser seal of the said commonwealth to be affixed at Richmond on the first day of June in the year of our Lord One thousand eight hundred and Nineteen and of the Commonwealth the forty third" (FC in Vi: RG 4, Virginia Land Office Grant Book, 68:139–40; at head of text: "Thomas Jefferson 18 acres Bedford Exd"; with notation in left margin: "October 4th 1821. deld to Mr Bernard Peyton." Peyton enclosed a copy of the patent to TJ in a letter of 11 Oct. 1821.
1. Manuscript: "unapropiated."