Enclosure: William Woods's Survey of Land in Dispute between James Monroe and William Short, 21 February 1816
Enclosure
William Woods's Survey of Land in Dispute between James Monroe and William Short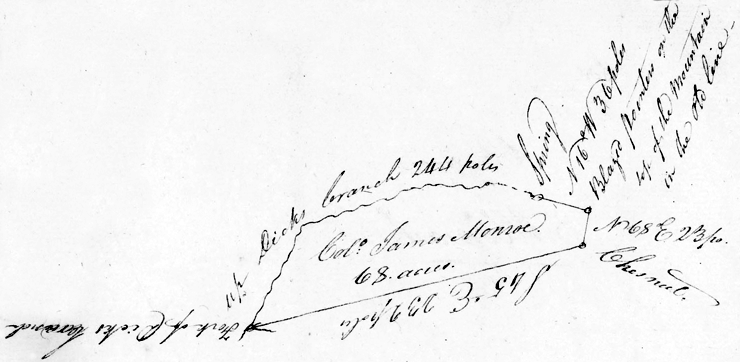 This is a Plat of 68 acres of land lying in the County of Albemarle on the South side of Carters Mountain, & on the east side of Dick's branch, being the land in controversy between Colo James Monroe & Wm Short Esqr which has been determined by arbitration to belong to Colo Monroe.
Surveyed February 21
st
1816.
Wm Woods. S.A.C.
MS (ViW: TJP); written on a scrap in an unidentified hand; endorsed in same hand on verso: "Colo James Monroe 68 acres Albemarle."
William Woods (ca. 1777–1849) was the surveyor of Albemarle County, 1796–1828. He became a county magistrate in 1816, served as a colonel in the militia in 1817, and was sheriff in 1837. Woods was a founding member of the Agricultural Society of Albemarle in 1817 and received several awards for his skill in animal husbandry. At the time of his death he owned land worth $4,800 as well as fifty-one slaves and other personal property (Woods, Albemarle description begins Edgar Woods, Albemarle County in Virginia, 1901, repr. 1991 description ends , 356, 375, 379; Rodney H. True, "Minute Book of the Agricultural Society of Albemarle," Annual Report of the American Historical Association for the Year 1918 [1921], 1:269, 314, 315, 330, 345; Albemarle Co. Will Book, 19:347–50, 360–2; Richmond Whig and Public Advertiser, 8 Jan. 1850).