Gideon Fitz's Drawing of his Windmill, [ca. 10 June 1810]
Gideon Fitz's Drawing of his Windmill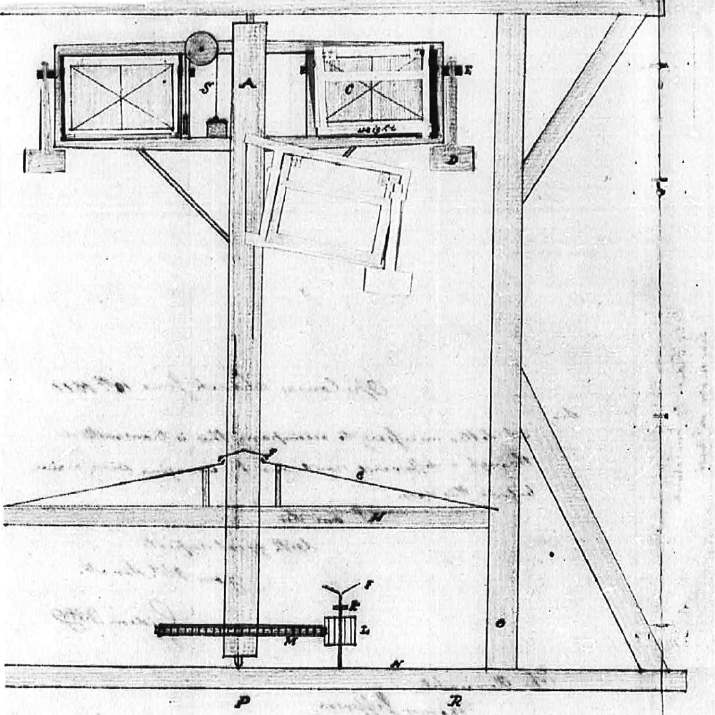 Signification of the letters in the drawing,
A
Axletree, say 15 inches diameter.
B.
Arm, say 9 feet long.
C
Large sail, say 6 feet by 4.
D
Paddle, or small sail
E
Pivot shaped like those of steelyards.
F
Cap roof fast to the axle to prevent rain passing down.
G
Roof.
H
Joist, or plate.
I
Hopper.
K
Mill stones
L
Trundle.
M
Band or spur Wheel.
N.
Ground floor.
O.
Upright post, say 30 feet high, four in number, with cross beams at top.
S.

 

Pulley & weight, to be used perhaps in preferance to the frame on the back of the sails to keep them down.
MS (DLC: TJ Papers, 190:33832, 33831); entirely in Fitz's hand; undated; with drawing on verso of brief covering letter of 12 June 1810 written from Opelousas Church and stating that "A letter necessary to accompany this is transmitted through a different rout, and I imagine will arrive before this does" (RC in DLC; date reworked from 10 June 1810; addressed: "The Honourable, Thomas Jefferson, Late President of the United States Milton Virginia"; endorsed by TJ as a letter of 10 June 1810 received 16 Aug. 1810 and so recorded in SJL); key to letters sent with Fitz to TJ, 10 June 1810.
This representation of Fitz's machine is as much a model as a drawing, with the sails cut out and hinged. Fitz did not patent his windmill.