Enclosure: Robert Fulton's Drawing and Description of a Self-Acting Hydraulic Ram, [ca. 28 March] 1810
Enclosure
Robert Fulton's Drawing and Description of a Self-Acting Hydraulic Ram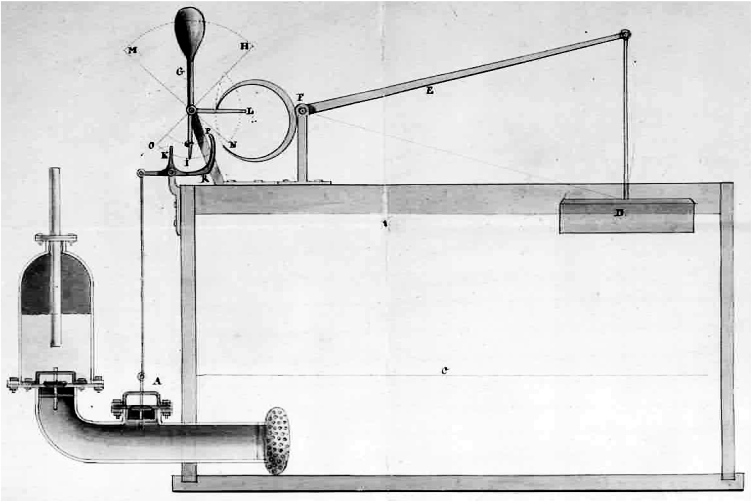 That this engine may act well the valve at A must at the commencement open quick as by a stroke, were it to open by any slow movement1 it would loose much water before it began to beat, When the water in the reservoir is exhausted, or as low as the line C and the Valve A has ceased to beat its weight will keep it open and discharge the water which should fill the reservoir unless there be means provided to shut it; I see only one mode of obtaining a movement by which to make this a self acting machine, and it is slow; It is a piece of light pine wood or a box D floating on the water rising and falling with it; this float is connected to the lever E the fulcrum is at F its horned end works the shaft and weight G, in its present position the reservoir being near full the float D and lever E raised, the horned end acting on a right angle lever L and which is part of G has raised G from M to a perpendicular position and ready to fall to H; In which case its other extremity I will strike the Clicket K and knock the2 Valve A open, the lever L will then be in the position of N. and I will be in the position of O, as the water descends in the reservoir the lower horn will catch under the lever at N. and when the water sinks as low as C. N will be raised to L. then G falling to near M will bring the point I back from O Strike it against the clicket at P. Shut the Valve A saving the water until it again rises in the reservoir as deleniated; when the Valve A will again be knocked open and the machine begin to act; About 3 inches from the point I there is a joint like that of3 a carpenters rule which in the return from O to I bends to pass the point of the Clicket K. this joint should work free so as to fall to its perpendicular position,4 R may be of a weight to balance the Valve.
Robt Fulton 1810
MS (ViCMRL); partially dated; at foot of text: "Scale one inch to a foot but may be varied at pleasure"; with note in Nicholas P. Trist's hand, and initialed by him, on verso: "This drawing and explanation by Robert Fulton from the papers of Thomas Jefferson—or rather, found in a volume of his library (laid in between the cover and back sheet) when the library was sent to Washington for sale."
Early in the 1770s the Englishman John Whitehurst invented the first hydraulic ram, a pump that pushes water uphill using the energy produced by falling water. Joseph Montgolfier, a Frenchman, developed an automatic version twenty years later. An American patent for improvements to the hydraulic ram was issued in August 1809 to Joseph Cerneau and Stephen S. Hallet, of New York (ODNB description begins H. C. G. Matthew and Brian Harrison, eds., Oxford Dictionary of National Biography, 2004, 60 vols. description ends ; DSB description begins Charles C. Gillispie, ed., Dictionary of Scientific Biography, 1970–80, 16 vols. description ends ; List of Patents description begins A List of Patents granted by the United States from April 10, 1792, to December 31, 1836, 1872 description ends ).
A clicket is a catch that fastens something by falling or springing into position (OED description begins James A. H. Murray, J. A. Simpson, E. S. C. Weiner, and others, eds., The Oxford English Dictionary, 2d ed., 1989, 20 vols. description ends ).
1. Manuscript: "movment."
2. Fulton here canceled "lever."
3. Preceding two words interlined.
4. Remainder of sentence inserted by Fulton in a miniscule hand.