To Thomas Jefferson from William Lovering, 16 June 1802
From William Lovering
George Town June 16th 1802
Sir
Mr. Briesler the late Presidant's Steward, some time in October 1800 desired I would get a Mangle made for Callendering of Linen, the Smiths Work to complete it. I could not get done time enough, to deliver it before The Family left the City, Mr. Briesler desired me when it was done to apply to Mr Claxton, and that he would speak to Mr Claxton himself to receive it
I applied to Mr. Claxton some time since he told me he had nothing to do with it, under those Circumstances. I hope you will excuse me in taking the liberty of informing you, the Scetch of the apparatus is Anexed. It saves Labor and Tireing and makes Linen look considerable Better than Ironing, and is made Use of in General by Large Family's in Europe. If the Servants are unaquainted in Useing it, I Can instruct them, if you think proper to have it.
I am Sir your Obt. Hble Servt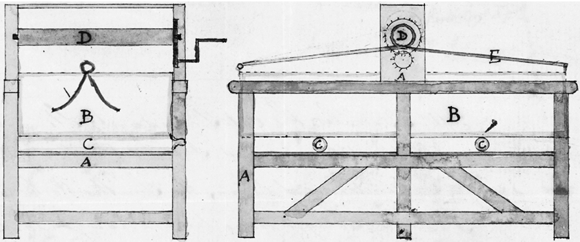 Scale of ½ Inch to a foot.
A. The frame of the Mangle
B. A Loaded Box—
C. Roolers to rool the linen on
D. Rooler that works the loaded Box.
E. Rope that works the Box.
RC (ViW); with drawing and description of mangle on verso of address sheet; addressed: "His Excellency Thomas Jefferson Esqr. Presidant of the United States"; endorsed by TJ as received 17 June and so recorded in SJL.
William Lovering, formerly of London, worked in Washington, Georgetown, and Alexandria as an architect, surveyor, and builder. In 1796 he supplied Robert Morris and John Nicholson with plans for the construction of 20 houses along the Square at South Capitol Street. By 1809, he relocated to Philadelphia, where he planned to teach architecture and carpentry (Alexandria Advertiser, 9 Oct. 1797; Alexandria Daily Advertiser, 11 Aug. 1804; Poulson's American Daily Advertiser, 26 Aug. 1809; Bryan, National Capital description begins Wilhelmus B. Bryan, A History of the National Capital from Its Foundation through the Period of the Adoption of the Organic Act, New York, 1914–16, 2 vols. description ends , 1:278–9).
John BRIESLER served as steward in the Adams family for nearly twenty years and managed their households in Massachusetts, England, and France, as well as the President's House in Washington (Seale, The President's House description begins William Seale, The President's House, Washington, D.C., 1986, 2 vols. description ends , 1:83).
MANGLE: a large box device filled with stones and attached to a wooden frame, this laundry invention was widely used in sixteenth-century Holland, Denmark, and Germany, and was later modi?ed and adopted in the United States. A launderer wrapped clean, damp linen around wooden rollers placed under the box and used a crank handle or strap to move the box trundle forward and back over the rollers, producing a high standard of pressed linen (OED description begins J. A. Simpson and E. S. C. Weiner, eds., The Oxford English Dictionary, Oxford, 1989, 20 vols. description ends ; Ian McNeil, ed., An Encyclopaedia of the History of Technology [New York, 2002], 932).