Thomas Jefferson to Samuel J. Harrison, 5 December 1811
To Samuel J. Harrison
Poplar Forest Dec. 5. 11
Sir
I had left the inclosed papers with mr Griffin in case Scott should have given any further trouble. on his departure he returned them to me, and I think it proper they should be delivered up to you. I state the list of them below. accept the assurance of my respects.
Th: Jefferson
1771. Mar. 16

 

Richard Tullos's patent for 374. acres

1797. May 22.

Thomas Jefferson's patent for 100. a

s

1795.
Dec. 23.

 

W

m

P. Martin'scopy of the survey of the 100. a

s

same

 

date.
Richard Stith's1 certificate of the entry & survey
1803.
Dec. 26.
Edmund Tate's survey of 54¾ a

s

of the same land.
 
1809.
Nov. 15.
W

m

P. Martin's resurvey of the patent lines
a plat of the 374 & 100. a

s

shewing their contiguity.
PoC (ViU: TJP); adjacent to signature: "Mr Saml J. Harrison"; endorsed by TJ. Enclosures: (1) Land Grant to TJ, Richmond, 22 May 1797, signed by Governor James Wood by virtue of treasury warrant no. 1724, issued 5 Dec. 1795, and based on a 23 Dec. 1795 survey describing the land as containing 100 acres in Campbell County "on the South branches of Ivy Creek and bounded as followeth to wit Beginning at Wilkersons and Johnsons Corner pointers thence along Wilkersons lines North 60 degrees East 8 poles to his Corner red oak South 52 degrees East 94 poles to his Corner pointers, thence off North 76 degrees East 36 poles to a Hickory North 40 degrees East 130 poles to pointers on Tullos's line, thence along his lines North 60 degrees West 55 poles to his corner white oak, West 84 poles to his Corner pointers on Johnsons line at a small branch and along Johnsons South 38 degrees West 100 poles to the beginning" (MS in ViU: TJP, printed form with blanks filled and description of land entered in a clerk's hand, signed and sealed by Wood, with certification by William Price, register, Virginia Land Office, that "Thomas Jefferson hath title to the within," endorsed by Price as executed and recorded in "Book No 39 page 303"; FC in Vi: RG 4, Virginia Land Office Grant Book, 39:303–4). (2) Survey for Edmund Tate, Campbell County, 26 Dec. 1803, consisting of a plat (illust. below) and accompanying description of "54¾ Acres of Land bounded as follows viz begining at A Corner to Wilkerson Couch and Johnson N40 E 144 poles along Couches line to a hicory Corner at B then E—t 84 pole white Oak at C Corner to Tillis [i.e., Tullos] N 62 E 62 pole to white Oak at D Corner to Tillis & Saml Scott S 30 W 30 poles to E S 70 W 184 poles to hicory Corner to said Scott at F & then N 76 E 58 poles to the begining" (Tr in ViU: TJP, in William P. Martin's hand, at foot of text: "transfered to Saml Scott," endorsed: "Scotts plat 54¾ Acres"; Trs of this and preceding enclosure in ViU: TJP, entirely in TJ's hand, attested by Martin and Blagrove, respectively, and by TJ, forming part of of a set of exhibits submitted by TJ with his 11 July 1812 answer to Scott's bill of complaint in Scott v. Jefferson and Harrison; Trs of this and preceding enclosure in Campbell Co. Record of Surveys [1781–1827], 76, 103, with variant wording indicating that the latter was based on a 26 Apr. 1803 entry).

All of the enclosed documents, with the exception of
richard tullos's
missing patent and the plat discussed below, were used as exhibits the following year in TJ's litigation with Samuel Scott (
TJ's Answer to Samuel Scott's Bill of Complaint
in
Scott v. Jefferson and Harrison
, 11 July 1812). For the
dec. 23.
1795 survey, see
TJ to James Martin, 18 Feb. 1810
, and note. William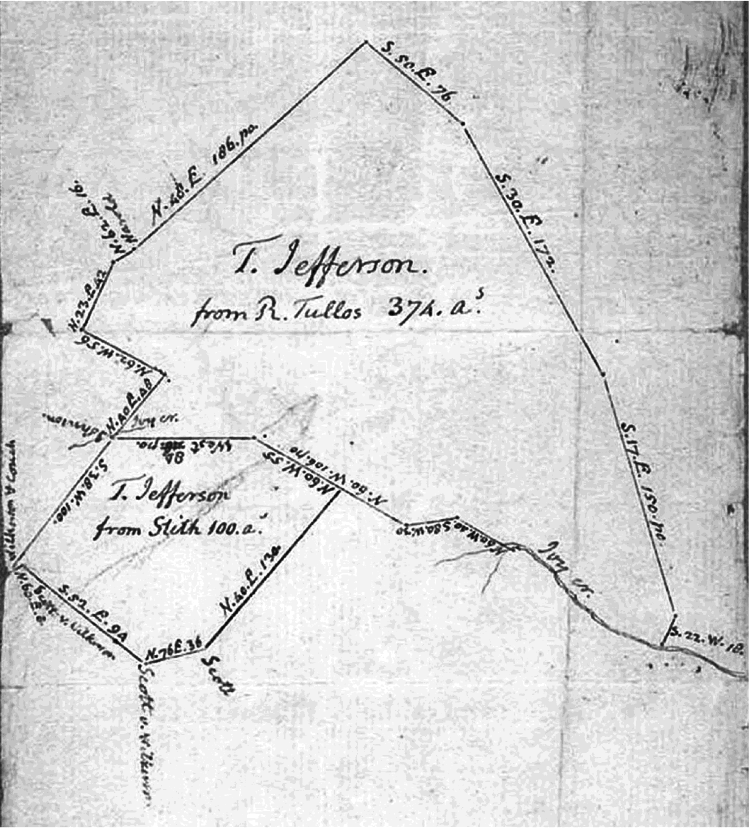 P. Martin's 15 Nov. 1809
resurvey
is printed in note to
TJ to Christopher Clark, 1 Apr. 1810
. The plat showing the
contiguity
of the 374- and 100-acre tracts was probably a copy of the version illustrated above that TJ evidently retained in his papers (MS in ViU: TJP, Thurlow-Berkeley no. 1136 [532a]; entirely in TJ's hand; undated).
1. Manuscript: "Smith's."