Thomas Jefferson to Ann C. Bankhead, 29 December 1809
To Ann C. Bankhead
Monticello Dec. 29. 09.
My dear Anne
Your Mama has given me a letter to inclose to you, but whether it contains any thing contraband; I know not. of that the responsibility must be on her. I therefore inclose it. I suppose she gives you all the small news of the place such as the race in writing between Virginia & Francis; that the wild geese are well after a flight of a mile & a half into the river, that the plants in the Greenhouse prosper Etc. à propos of plants, make a thousand acknolegements in my name & with my respects to mrs Bankhead for the favor proposed of the Cape Jessamine. it will be cherished with all the possible attentions: and in return proffer her Calycanthuses, Paccans, Silk trees, Canada martagons or any thing else we have. mr Bankhead I suppose is seeking a merry Christmas in all the wit and merriments of Coke Littleton. God send him a good deliverance. such is the usual prayer for those standing at the bar. deliver to Mary my kisses, and tell her I have a present from one of her acquaintances, miss Thomas for her; the minutest gourd ever seen, of which I send her a draught in the margin.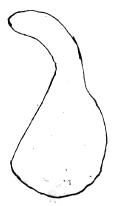 What is to become of our flowers? I left them so entirely to yourself, that I never knew any thing about them, what they are, where they grow, what is to be done for them. you must really make out a book of instructions for Ellen, who has fewer cares in her head than I have. every thing shall be furnished on my part at her call. present my friendly respects to Doctr & mrs Bankhead: my affectionate attachment to mr Bankhead & yourself, not forgetting Mary.
Th: Jefferson
RC (James S. Leonardo, Des Moines, Iowa, 2002); notation in a different hand at foot of text: "Addressed Mrs. Anne C. Bankhead Port Royal." PoC (MHi); lacks drawing; endorsed by TJ. Enclosure not found.
Ann Cary Randolph Bankhead (1791–1826), TJ's eldest grandchild and the daughter of Martha Jefferson Randolph and Thomas Mann Randolph, was born at Monticello. On 19 Sept. 1808 she married Charles Lewis Bankhead, the son of Mary Warner Lewis Bankhead and one of TJ's closest friends, John Bankhead. Three sons and a daughter from this union reached adulthood. In 1811 the Bankheads purchased Carlton, an 800-acre farm adjacent to Monticello. Charles Bankhead proved to be alcoholic, abusive, and improvident. Trustees managed his estate after 1815, when TJ sought to ease a financial crisis by adding 130 acres to the couple's holdings. Ann Bankhead died of complications following childbirth five months before TJ and was buried in the family graveyard at Monticello (Shackelford, Descendants, 67–75; John Vogt and T. William Kethley Jr., Albemarle County Marriages, 1780–1853 [1991], 2:602; Elizabeth Trist to Catharine Wistar Bache, 7 May 1811 [PPAmP: Catharine Wistar Bache Papers]; MB, 2:1269–70; TJ to Thomas Jefferson Randolph, 11 Feb. 1826; Richmond Enquirer, 23 Feb. 1826).
cape jessamine: cape jasmine (Gardenia jasminoides) is an evergreen shrub with large, fragrant, waxlike white flowers and glossy leaves (Hortus Third, 495). calycanthuses: Carolina allspice (Calycanthus floridus) is an aromatic shrub with fragrant flowers (Hortus Third, 207). silk trees: Albizia Julibrissin, or mimosa tree, was an ornamental plant introduced to gardens because of its attractive and fragrant pom-pom-like flowers and fernlike foliage (Betts, Garden Book, 396; Hortus Third, 45). canada martagons: probably Lilium canadense (Canada lily), a common lily of the eastern United States with yellow or reddish flowers spotted with brown (Hortus Third, 662).
coke littleton: a standard, challenging treatise for aspiring lawyers was Sir Edward Coke, The First Part of the Institutes of the Lawes of England: or a Commentary upon Littleton (4th ed., London, 1639; Sowerby, no. 1781). Bankhead's younger sister mary Jefferson Randolph was evidently visiting her.
A letter from Bankhead to TJ of 2 Feb. 1810, not found, is recorded in SJL as received from Port Royal in Caroline County on 15 Feb. 1810.